Brothers & Arms True Blue GUN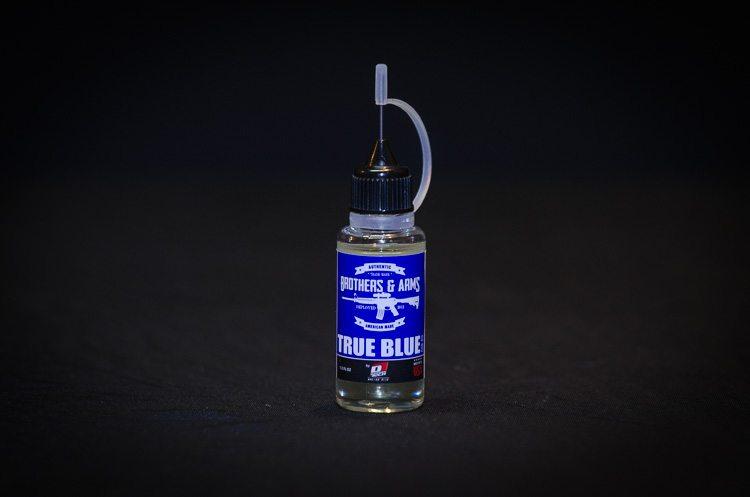 BROTHERS & ARMS TRUE BLUE GUN LUBRICANT 1/2 OZ

Why does our Brothers & Arms® USA TRUE BLUE Gun Oil perform like no other? We are not new to the lubrication world. Dumonde Tech has a performance proven track record in the motorsports and bicycle industry with over 25 years of experience. No BS. Tried and Proven.



Our Brothers & Arms TRUE BLUE Gun Oil has a very low coefficient of friction. Through Polymerization, our MRCC technology, it's wetting ability, molecularly plates all surfaces, contact points, and moving parts through heat and pressure. TRUE BLUE Gun Oil will reduce attrition in high wear areas. Does not build-up or create a sticky substance which inhibits smooth action of firearm components.

Don't be confused by the high flash point of other brands claim in their marketing. Because of the minimal volume of lubricant present in a fire arm, lower flash point is insignificant. As TRUE BLUE Gun Oil is introduced to heat, the flash point increase as the polymerization develops and the lube starts to become a solid. This is where the uniqueness of Dumonde Techs technology really starts to differentiate itself from ALL other brands.

TRUE BLUE isn't part of the thick v thin debate. If a lube runs out, you have over applied! If you feel you need to over apply because the performance diminishes to quickly, you need Brothers & Arms TRUE BLUE Gun Oil.



Odorless. We don't smell good or bad.

Cold temperatures or high heat has little to no effect on performance.

Pour Point is -35ºf / -37ºc Flash Point 575º+f / 301ºc + (see paragraph above) As a solid 1100ºf / 593ºc

High corrosion protection for short and semi long term storage. For long term storage, we recommend our Heater Grease.

Water Proof. Protects against fresh water and salt water exposure directly or atmosphere.

Application: Follow the manufacturers recommendation on location and amount to use. Why other brands suggest to apply their lubricant "generously?" Because they need extra hoping to perform better and longer? Problem, blow back and running out making a mess. With TRUE BLUE Gun Oil, there is never reason to apply generously. Period. Just enough, is enough. We have a small diameter needle to allow this.
Item Info
| | |
| --- | --- |
| Item | Available In Store |
| UPC | 736211002099 |
| Brand | BROTHERS & ARMS |
| Model | GL101-2 |